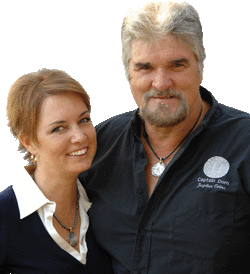 The General Partners
A message from Captain Dominic and
award winning author
, Yvonne Addario Internationally
recognized undersea explorers
and authors:
The site of our proposed
Jupiter River Inn
has been our 'base camp' for undersea exploration and maritime adventures for the past two decades. We are taking our waterfront land holdings and are now structuring a
unique 'village within a village concept
' An investment opportunity is being structured so we can share a slice of our paradise, lifestyle and the spirit of adventure with you and others along with the natural resources, making up 'Jupiter-by-the-sea'.
Jupiter River Inn, Inc.
(JRI) is the upland land owner.
Captain Dom received site plan approval for a 35 unit resort over a decade ago. Two cycles of our economy and 911 put the original plan on hold. That site plan has now been down sized into five village scale cottage-like structures; with its own secure off street parking. This will be the home of our
Explorers Vacation Club ™
. The home of the

Explorers Vacation Club ™

Lodge will be the waterfront structure. The remaining property is to be platted into four flex-space cottage lots that are
'Island Style' in design
. These
unique in-town waterfront cottages
will offer a limited number of Ocean Boulevard shops, offices and studios.
Each cottage suite will have access to the waterfront and on site property management. Cottages will have their own designated off street parking. A charter fleet of select vessels, to be maintained by our experienced professional staff; will be available for cruising, diving exploring, fishing, kayaking and paddle boarding.
The
Explorer's Vacation Club ™
will be a boutique enclave within the Jupiter Inet Village with varying roof heights with some related retail shops and amenities facing
Ocean Boulevard, surrounded by a natural live oak hammock.
Our client profile will be international in nature – active sportsmen and women who have a spirit of adventure and desire to be involved with exploration, healthy lifestyles and water sports while enjoying an 'Old Floridian' ambiance without the hassle of site and day-to-day property management.
---