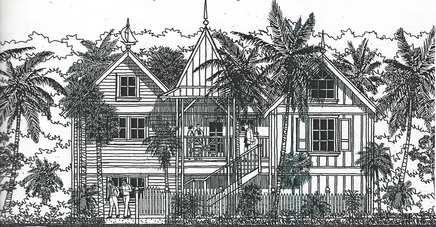 Experience an "adventure in your own time," here at our Jupiter River Inn! We are about to make the
Explorer's Vacation Club
become a reality for you as fellow adventurers.
The Jupiter River Inn
is now evolving into the base camp for our extended stay, pet and eco-friendly - unique
Explorer's Vacation Club
. Our location is situated on a 200+ year old live oak, tree hammock along the Historic Bank of original scenic oxbow of the Jupiter River. 21st Century Technology will be wedded to the timeless natural beauty of this unique site right here, on the 50 yard line of the
Jupiter Inlet Village
.
Following the course charted by Section 27-860.11 within Section 20 of the
Jupiter Inlet Village
Zoning District and its building code, Our first phase & second phase begins with a much needed renovation and expansion project of our original structure which by itself is approaching a century old. Guided closely by these Land Development Regulations established by the Town of Jupiter. We are first planning to recreate the look of an antebellum southern old world river estate turned into a
21st century eco-friendly water front, pet, friendly
in town enclave meeting place /
bed & breakfast
.
We are not using the term
Eco Friendly
loosely. Our remodeling process will begin with the elimination of antiquated septic tank waste water drainage systems and follow with the modernization of all our inn's private and public bathroom facilities. Tank less water heaters will be installed. Only the highest quality insulation and building techniques and materials; meeting current Florida Hurricane wind codes – including
solar air conditioning and heating systems
, with their own solar collectors tastefully designed to fit right in with the new varied height and pitched roof systems that will fit right in along our
one-of-a-kind scenic river front
. Tesla is being approached to use their new solar roof tiles and Tesla Wall DC Power storage systems.
Our
Club
, we will be offering select members and guests access and use of hybrid electric road worthy vehicles and vessels to experience the ecological wonders of our area – including access to the Loxahatchee River, the only Federally Designated
Wild & Scenic River
within the State of Florida. Guest accommodations will range from
airy studio units
, most with at least 10 to 12 foot wall eve heights – to family oriented
pet friendly two to three bedroom loft cottage like units
, all with
scenic river views
. Besides offering some guests the opportunity to travel to our area without having to bring their own transportation, we will be offering off site secure parking for all of those who choose to arrive by their own means of transportation. Paddle boards, kayaks, fishing and expedition vessels will all be here onsite and available for guests use.
Phase Three of our multi-year plan is to strictly following the Town's LDR's for the conceptual infill a number of Flex-space
Ocean Boulevard Cottages
, some with retail store fronts – all pedestrian friendly that can offer short term pet accommodations, bike rentals, masseuse services reading materials and whatever else
extended stay
guests may need and have forgotten. Second floor village scale units, with their own private parking will be developed along our 280 feet of
Ocean Boulevard
– facing the Inlet Village Marina Boater's Park. Our
Coastal Historic Undersea Management Society
will be home at our
Jupiter River Inn boutique destination
driven waterfront eco-friendly gathering point within the
Jupiter Inlet Village
.
It is our goal for our facility to act as an interactive and effective Maritime Museum - featuring our discovery of a
1660 Historic Shipwreck Site
. This will be incorporated and weaved into our whole approach to introduce Jupiter Travelers to our village's Unique Historic Maritime Past and Palm Beach County's other valuable cultural resources.
---
Jupiter River Inn offers in town seasonal rentals. Jupiter seasonal rental cottages and homes in Jupiter, Florida. Waterfront rentals in walking distance to ocean and restaurants offer quiet unique experience while near area entertainment district. Bed and Breakfast, pet friendly homes in Jupiter are also waterfront rentals, suites, cottages and rental cottages. Jupiter River Inn has the best deals in extended housing, suites and cottages. Invest in Jupiter waterfront at the Jupiter River Inn steps from the ocean. Jupiter River Inn Bed and Breakfast is offering in town seasonal rentals and waterfront rentals. Jupiter, Florida Bed and Breakfast locations are on the inlet. In the future, extended stay cottages will be available along with our vacation rentals that are pet friendly rentals. Furnished Jupiter vacation rental homes and extended stay housing in Jupiter are in walking distance to restaurants, shops and more. Find your Jupiter vacation rental at The Jupiter River Inn. Brand new Jupiter vacation rental homes and pet friendly homes in Jupiter close to everything are available. Walk to ocean from your Jupiter vacation rental that is also a pet friendly rental.